Embroidery prices

# of
Stiches
# of pieces
1+
12+
24+
72+
144+
500"+
5000
$15.00
$13.00
$10.00
$8.00
$5.00

$3.00

6000
$15.00
$13.00
$10.00
$8.00
$5.00

$3.00

7000
$15.00
$13.00
$10.00
$8.00
$5.00

$3.00

8000
$15.00
$13.00
$10.00
$8.00
$5.00

$3.00
Silk screen prices

Call for prices and minimums






































































Step 1
Select general clothing from the green link below. Or go to our other links for Team Uniforms, Sweats & Outerwear and Hats for specific items to be embroidered or silkscreened.
Step 2
Choose colors and sizes.
Step 3
Email us your logo with the clothing item numbers and quantity and we'll send you a quote.
(Please send good quality jpegs or .ai files.)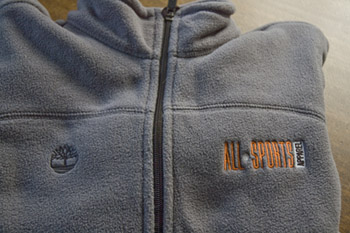 Quality
We have been embroidering clothing for 18 years. We use the highest number of stitches possible so that your logo looks clean and professional.
Set Up Fees
Call or email us for a quote regarding your project.